Atrazine is an herbicide that selectively controls broadleaf (dicot) weeds, such as pigweed, cocklebur, velvet leaf and certain grass weeds in fields of corn and sorghum. Selective control means that the target weeds are controlled, with little or no injury to the crop. Atrazine is well tolerated by actively growing corn and sorghum, which absorb and metabolize the herbicide and thereby detoxify it.  The reason atrazine is effective for weed control, but relatively non-toxic to animals, is that it inhibits photosynthesis in susceptible plants. Photosynthesis is the process that occurs in green leaves and stems of plants, whereby light energy is converted to chemical energy (carbohydrates). This process is not present in animals. Atrazine is sometimes detected in groundwater. In most instances, the source of atrazine in well water may be caused by leaching near the wellhead due to atrazine loading, cleanup activities or back siphoning accidents during sprayer loading. Atrazine is not recommended for use in areas where mixing of surface and groundwater could lead to atrazine contamination of shallow aquifers. This would include areas with shallow water tables and coarse-textured soils. The atrazine label also prohibits mixing, loading or application within 50 feet of a well.
Atrazine poses the biggest health risks during pregnancy and infancy. Because of their small size and limited diets, bottle-fed babies consume five to six times higher doses of water pollutants than adults in the same household. The US EPA has found atrazine to potentially cause a variety of acute health effects from acute exposures at levels above the 0.003 mg/L MCL. These effects include congestion of heart, lungs and kidneys; hypotension; antidiuresis; muscle spasms; weight loss; adrenal degeneration. Atrazine has the potential to cause weight loss, cardiovascular damage, retinal and some muscle degeneration, and mammary tumors from a lifetime exposure at levels above the MCL of 0.003 mg/L.
CULLIGAN US-3UF ULTRA FILTRATION UNDER SINK DRINKING WATER FILTER SYSTEM
The US-3UF utilizes a 3-in-1 cassette style filter which allows 3 stages of filtration to be changed in one easy step and is also equipped with a floor leak sensor and alarm to help prevent water damage. The built-in LED filter life indicator will take the guess work out of when to change your filters and keep providing your family with great water every day of the week.
Features:
Ultrafiltration technology keeps all the minerals in your drinking water that are necessary for maintaining health and better tasting water
Unlike an RO System, the UF system requires no tank or drain connection and produces no water waste
Leak sensor will set off alarm if a leak is detected
In/Out plumbing connections on both sides of unit allow system to position on left or right side of cabinet
Safe and secure filter replacement with locking handle
Built in filter life indicator
Easy one cartridge replacement design
Designer faucet included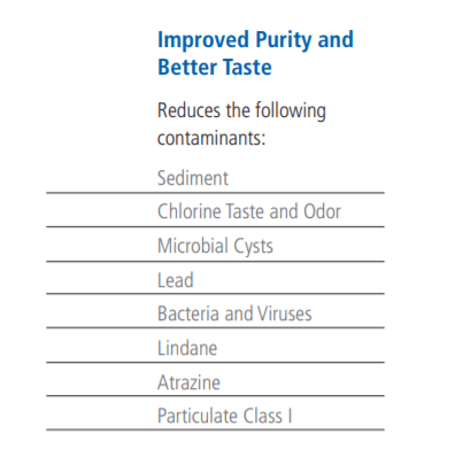 TABLE 1 – CONTAMINANT REDUCTION CLAIM FOR CULLIGAN UNDERSINK FILTER
Treatment options are available to remove atrazine from well water. The most used is granular activated carbon filtration. Options include central treatment (at the well or entry to home) or a point-of-use device (kitchen sink filter). Check to be sure any treatment system used is certified by a recognized, third-party testing organization that meets strict testing procedures established by the American National Standards Institute (ANSI) and the National Sanitation Foundation (NSF) International. Proof of certification should be available through your manufacturer. Alternatively, NSF certification for various treatment units may be verified through NSF, or the Water Quality Association. Treatment equipment must be carefully maintained to work properly and might not be effective if atrazine levels are very high. It is recommended that treated water be tested at least once a year. Untreated water should be tested at least every three years. The most effective nonchemical method for removing altrazine is through activated carbon filters such as the Culligan Under Sink Filter System.
can help their customers with suitable recommendations for chloramine and to resolve taste and odor issues.  The technicians can also help with installation of the recommended filter products. Sani Water is dedicated to offer best solutions to meet the drinking water requirements of their customers.
REFERENCES
https://www.ncbi.nlm.nih.gov/pmc/articles/PMC6164008/
https://water-research.net/index.php/atrazine-in-water
https://www.who.int/water_sanitation_health/dwq/atrazinerev0305.pdf
https://www.nrdc.org/sites/default/files/atrazine10.pdf
https://www.ewg.org/enviroblog/2017/08/atrazine-harmful-weedkiller-taints-tap-water-millions-us#:~:text=Atrazine%2C%20a%20widely%20used%20agricultural,Americans%20at%20potentially%20harmful%20levels.&text=The%20highest%20levels%20of%20atrazine,detected%20in%20May%20and%20June.
https://www.oregon.gov/oha/PH/HEALTHYENVIRONMENTS/DRINKINGWATER/MONITORING/Documents/health/atrazine.pdf
http://culligandiy.com/Undersink-Systems/Ultra-Filtration-Systems/Ultrafiltration-System-with-SureLock-US-3UF
https://www.aquajaker.com/wp-content/uploads/2018/07/US-3UF-Culligan-2.pdf