Refrigerator water filters remove the contaminants and other particulates from the water that goes through the refrigerator's water and ice dispenser. Water travels through miles of underground pipes before ever reaching homes or businesses. Along the way, it may collect lead from old pipes, agricultural runoff, and other harmful compounds. Most refrigerator filters are designed to remove three major contaminants: lead, chlorine, and volatile organic compounds (VOCs). Some are rated to remove cysts and chloramine as well. Houses that don't have or need a whole-house filtration system, often use Point-Of-Use devices such as faucet or pitcher filters. These devices, although effective, don't meet all the drinking water requirements in a household. Since a vast majority of people rely on refrigerators for cold drinking water and ice requirements for beverage needs especially during hot summers, it is essential that the water coming out of the refrigerator be of utmost quality and safety. Refrigerator filters remove the contaminants from the water by forcing them through activated carbon installed inside the filters. Activated carbon is commonly used to adsorb natural organic compounds, taste and odor compounds, and synthetic organic chemicals in drinking water treatment. Activated carbon functions like a contaminant magnet, trapping lead, pesticides and pharmaceuticals. There are many types of refrigerator filters, the types of refrigerator filters such as drop-down filters, grille filters, slide-out filters, in-line filters, canister filters, bypass filters. In-line filters are the most commonly used refrigerator filters. These units remain outside the fridge and they must be connected through the water line. 
Refrigerator filters should be changed frequently depending upon water usage and incoming water quality at the residence. If filter cartridges are not replaced regularly then: 
Filter clogs. It reaches a point where it will no longer filter because it's packed with dirt and debris. You know it's past time to change your filter when water stops flowing out.

Carbon reaches maximum capacity. Water continues to flow through the filter even if the surface area is full, but the water carries contaminants along with it. Imagine going to a mall at Christmas. After driving up and down rows of cars and finding no place to park, you get back on the road and head somewhere else. Similarly, when all the spaces in an old carbon filter are taken, particles accumulate or pass through the filter.

Filter grows bacteria. A loaded carbon filter collects particles that living organisms feed off of and becomes a campground for bacteria.
Culligan IC 4 EZ-Change Inline Icemaker and Refrigerator Filtration System
The Culligan IC 4 EZ-Change Inline Icemaker and Refrigerator Filtration System is a premium in-line refrigerator filter that provides perfect solution for bad taste and odor issues, chloramine/ chlorine taste and odor, lead, mercury, turbidity, and volatile organic compounds (VOCs). Some of the features include:
FEATURES: Reduces particulates class I, chloride, cyst, chloroform, MTBE, Mercury, lead, turbidity, and bad taste/odor; Includes head assembly, RC-EZ-4 filter cartridge, mounting screws, cartridge change reminder sticker; Flow rate of 0.5 gpm at 60 psi

COMPATIBILITY: Head assembly fits Culligan replacement cartridges, RC-EZ-1, RC-EZ-3 and RC-EZ-4

FILTER LIFE: Up to 6 months or 500 gallons, depending on usage and water conditions

CERTIFICATION: Tested and certified by IAPMO to NSF/ANSI Standard 42 for the aesthetic reduction of Chlorine Taste and Odor, Chloramines and Nominal Particulate Class 1. Standard 53 for reducing Cysts, Mercury, lead, VOC, MTBE and Turbidity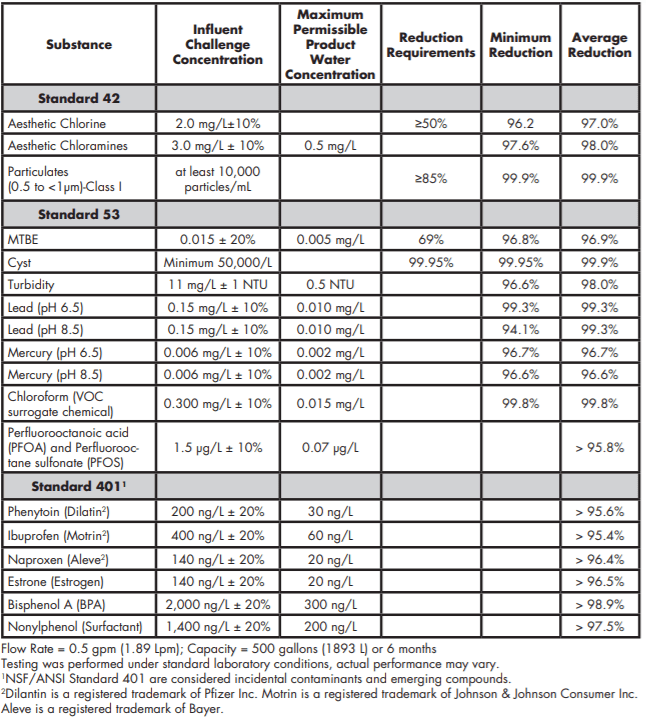 Table 1 describes the contaminant reduction claims for this filter.
Refrigerator filtration systems provide a cost-effective, low-maintenance, and easy-to-install means of filtered and cold water at the same time. Sani Water services provide state-of-the-art filtration systems and consultation on refrigerator filters to provide easily accessible clean and healthy drinking water at home.
Saniwater also provides consultation on the type of filtration system best suited for the customers' needs and guide the customers in selecting the appropriate product. Once the preferred filtration system is selected, the filtration expert technicians at Sani Water can help with the installation and maintenance of filters.
REFERENCES
https://iaspub.epa.gov/tdb/pages/treatment/treatmentOverview.do?treatmentProcessId=2109700949

https://www.fridgefilters.com/fridgepedia-refrigerator-water-filters.html#:~:text=Refrigerator%20water%20filters%20remove%20the,refrigerator's%20water%20and%20ice%20dispenser.&text=Most%20refrigerators%20use%20a%20long,the%20fridge%2C%20near%20the%20grille

.

http://culligandiy.com/Refrigerator-Filters/Exterior-In-Line-Systems/Premium-Icemaker-and-Refrigerator-Filter-IC-EZ-4

http://culligandiy.com/getattachment/c2b02d5b-c68c-476f-a200-bb9b5d38d945/attachment.aspx

https://www.amazon.com/Culligan-IC-EZ-4-EZ-Change-Refrigerator-Filtration/dp/B000Q8HPDG

https://www.freshwatersystems.com/blogs/blog/why-you-should-change-your-refrigerator-filter

https://www.whirlpool.com/blog/kitchen/how-do-refrigerator-water-filters-work.html