What is Microcystin?
Microcystin is a toxin produced naturally in cyanobacteria, which are also known as blue-green algae. It is a type of cyanotoxin and can have several harmful effects on human health. Most Microcystins are hepatotoxins, meaning they affect the liver. However, not all blue-green algae species produce microcystin — and microcystin is only one type of toxin that cyanobacteria can produce. Cyanobacteria are commonly found in surface waters when conditions are favorable for their growth. They are stable in sunlight and thrive in sunny conditions.  One common type of cyanobacteria that releases microcystin is known as Microcystis. Microcystis blooms are typically green, thick, and sometimes granular, with a consistency resembling that of paint. They tend to accumulate along the shorelines of lakes and ponds. 
Conditions favorable to cyanobacterial growth include warm temperatures and an abundance of nutrients — especially nitrogen and phosphorus — in the water. Temperatures ranging from five to 30 degrees Celsius (41F – 86F) can foster cyanobacterial growth, but temperatures ranging from 20 to 25 degrees Celsius (68F – 77F) are ideal, as are higher pH levels, generally between 6 and 9.  Since UAE experiences high temperature, it can  be considered as one of the regions susceptible to cyanobacterial (particularly Microcystin) growth. The following are some of the prominent health impacts indicating presence of Microcystin in source water:
Abdominal pain

Blistering of the mouth

Diarrhea

Dry cough and sore throat

Eye pain and blurred vision

Headaches

Kidney damage

Liver inflammation

Liver hemorrhage

Nausea and vomiting

Pneumonia
TREATMENT OF MICROCYSTIN (CYANOBACTERIA) AND EFFECTIVENESS 
The following table summarizes the different treatment processes and their relative effectiveness in Cyanobacterial (Cyanotoxin) removal: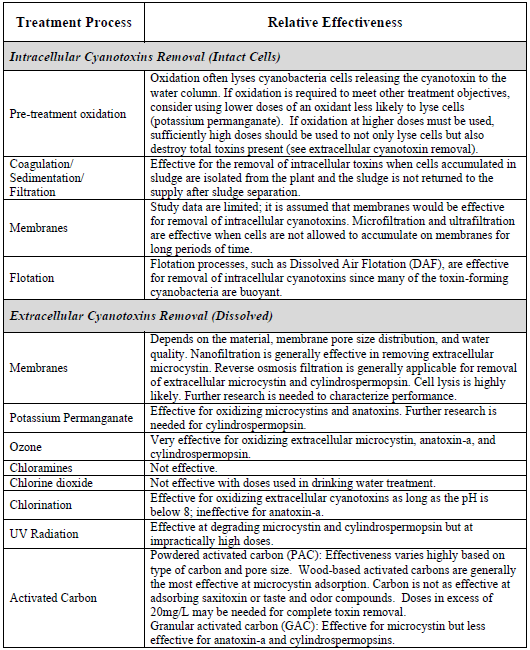 Source: US EPA
HOME WATER FILTRATION SYSTEM – eSPRING UV WATER PURIFIER (BELOW COUNTER MODEL)
Product Specifications:
Choose the Below Counter Unit with eSpring™ Auxiliary Kit with a faucet that matches your decor (faucet not included) or when hooking up to an ice maker.
Improves taste, odor, and clarity of up to 5,000 L (1,320 gallons) of water.*

Reduces more than 140 potential health-effect impurities like pesticides, VOCs, mercury, and lead.

Patented monitoring system signals when the cartridge needs changing.

UV bulb destroys up to 99.9999% of bacteria, 99.99% of viruses, and 99.95% of cysts.
Technical Information 
Housing height: 12-3/4 in. Diameter: 6-3/4 in.

Materials: All materials meet U.S. FDA requirements for use in transmitting fluids for human consumption. Constructed of durable, high-impact plastic.

For use with potable water supplies.

Maximum pressure: 125 psi.

Minimum pressure: 15 psi.

Maximum water temperature: 86 degrees F.

Electrical requirements: 120v, 1.8A/50-60 Hz.
Saniwater can help address the questions and concerns of their customers pertaining to UV treatment systems from eSPRING (AMWAY) manufacturers. They are dedicated to providing excellent customer service. The specialized and highly trained staff of technicians will not only help install the recommended product but also help troubleshoot if necessary.
REFERENCES
h

ttps://www.epa.gov/sites/production/files/2014-08/documents/cyanobacteria_factsheet.pdf

https://www.ncbi.nlm.nih.gov/pmc/articles/PMC1637783/pdf/envhper00310-0118.pdf

https://pubmed.ncbi.nlm.nih.gov/16604842/

https://www.multipure.com/purely-social/science/does-my-drinking-water-have-microcystin/

https://bestwaterpurificationblog.com/water-crisis-in-toledo-how-to-treat-your-water-for-removal-of-microcystin/

https://coastalscience.noaa.gov/project/practical-affordable-water-filtration-systems-remove-cyanotoxins/

https://www.amway.com/en_US/Shop/Home/Water-Treatment/Purifiers/eSpring%26trade%3B-UV-Water-Purifier-%26ndash%3B-Below-Counter-Model/p/110720?backRef=aHR0cHM6Ly93d3cuYW13YXkuY29tL2VuX1VTL3NlYXJjaC8/dGV4dD1lU3ByaW5nK01vZGVsKzEwMDE4NQ