Point-of-use (POU) systems treat the water where we drink or use water such as kitchen faucet, shower head, etc. and include water pitchers, faucet filters and under-sink reverse osmosis (RO) systems. Whole-house/point-of-entry (POE) systems treat the water as it enters a residence. They are usually installed near the water meter (municipal) or pressurized storage tank (well water). Whole-house treatment systems include UV microbiological systems, water softeners or whole-house filters for chlorine, taste, odor and particulates. POU and POE treatment devices rely on many of the same treatment technologies that have been used in water treatment plants. However, while water treatment plants treat all water distributed to consumers to the same level, POU and POE treatment devices are designed to treat only a portion of the total flow. POU devices treat only the water intended for direct consumption (drinking and cooking), typically at a single tap or limited number of taps, while POE treatment devices are typically installed to treat all water entering a single home, business, school, or facility.
POE systems offer high-capacity filtration and can treat up to several thousand gallons of water per day. They are normally larger in size with smaller mountable units, measuring from 20"H x 4.5D", to taller freestanding mineral tank systems that stand up to 65 inches or more in height. These versatile units can use a variety of different filter cartridges and media beds to practically remove any type of water contamination. The higher capacity & volume of POE systems also make them the most durable and maintenance free solutions, with some larger units only requiring filter replacements every 5-7 years. POU systems are installed at a single water connection typically under the counter of a kitchen or bathroom sink. These lower capacity, smaller systems will filter water at the actual "point" where it is being used. While POU purified water can be distributed to more than one outlet, the low volume production (20-100 GPD) makes it best suited for light use applications. Depending on the size of the unit, some POU filters will last only 3-6 months with others lasting up to 1 year or more. Examples of POU systems include under-counter and countertop reverse osmosis (RO) systems as well as basic sediment and carbon faucet filters.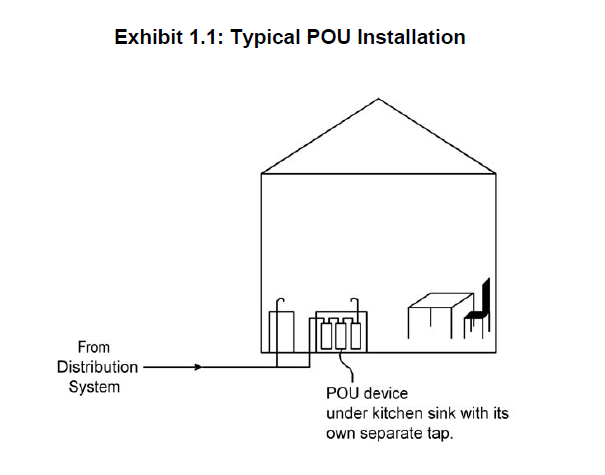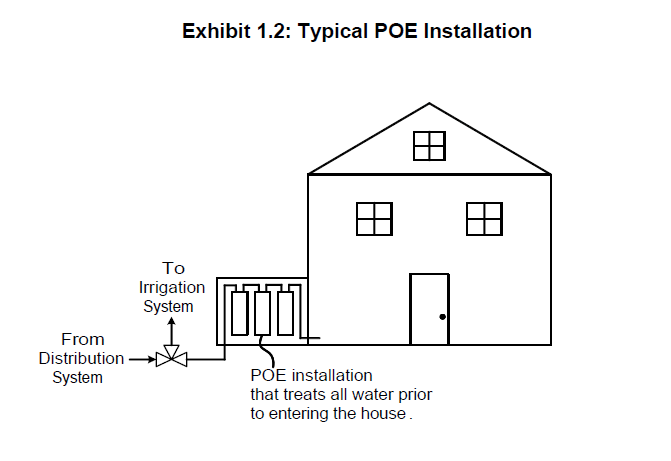 PRODUCT EXAMPLES 
PELICAN WATER COUNTERTOP DRINKING WATER FILTER SYSTEM
Pelican Water Countertop Drinking Filter System is a state-of-the-art system with a unique modern design that provides healthier, great tasting water. It is the most cost-effective way to deal with common contaminants in water, such as chlorine and lead, as well as chloramines, cysts, VOCs, THMs, PFOA & PFOS. This not only results in high quality drinking water, but it improves all kitchen-related tasks that use water – from washing vegetables and cooking pasta, to making coffee and tea, everything tastes exceptionally better. This system also provides convenience and flexibility, with easy installation on both the countertop and under-counter models.
3M FILTRETE™ BASIC WHOLE HOUSE QUICK-CHANGE REPLACEMENT FILTER, LARGE CAPACITY
3M offers Filtrete Quick-Change Whole House Systems, Large Capacity that reduces chlorine taste & odor, sand, sediment, rust, and soil with easy maintenance. It is available in two different types – whole house systems and under-sink systems. Some of the features include:

Cleaner Water Filtration reduces sand, soil, silt, rust and sediment based on 3M Testing. Best sediment filter reduction at 5 Microns.

More convenient / less messy than traditional Large Capacity Whole House Sump Style Systems

Includes 1/4 turn replacement filter lasts 12 month and is great for 4+ persons / +3 bathroom households

3M Patented technology
It is important to know about the difference between point of use and point of entry water filters before purchasing one. Water treatment experts at Saniwater can help their customers analyze the water quality and recommend good quality filtration systems. They can help customers with suitable recommendations for all contaminants' removal.  The technicians can also help with installation of the recommended filter products. Sani Water is dedicated to offer best solutions to meet the drinking water requirements of their customers.
REFERENCES
https://iaspub.epa.gov/tdb/pages/treatment/treatmentOverview.do?treatmentProcessId=2074826383

https://www.pelicanwater.com/drinking-filters/countertop-drinking-filter/

https://www.pelicanwater.com/pdf/pelican_PDF450.pdf

https://www.filtrete.com/3M/en_US/filtrete/products/~/Filtrete-Basic-Whole-House-Quick-Change-Replacement-Filter-Large-Capacity/?N=4315+3294472990+3294529207&rt=rud

https://multimedia.3m.com/mws/media/1876461O/3m-spsd-filtrete-water-filtration-selector-guide.pdf

https://www.freedrinkingwater.com/whole-house/water-filter-knowledge-base/difference-between-poe-pou-water-filtration.htm

https://www.epa.gov/sites/production/files/2015-09/documents/guide_smallsystems_pou-poe_june6-2006.pdf